How to prevent catfishing on social media is a deep and sensitive discussion. Deception is one of the common characteristics of humans. It can be for personal gain, revenge, to get any benefit, or anything else. The point you can't eliminate it from anyone's life. Some people use it in most casual ways. Others may incorporate it into daily life as an important quality. It's up to us to learn to differentiate between fake and real. Deception comes in many forms. Catfishing is one of them. this is a deceptive act of portraying a person that is not real. It may be based on a fictional character, someone else identity, or anything else. The end truth is that the person is not real.
What Is Mean Of Catfishing In Social Media
The term of catfishing is used for setting up an online profile on social media to build a relationship. It can be a romantic relationship, friendship or another type like scamming people or stealing their money after gaining their trust. The predator aims to lure innocent people into a fake relationship just to break their trust and gain personal benefits. With all the easy access to smart gadgets, the internet and social media from an early age, it can be one of the biggest problems of the young generation.
Statics Results of Catfishing
Here we'll mention a few statistics that help you understand that catfishing exists.
According to reports by the FBI in 2020. A total of 23768 complaints received were relevant to romantic and confidence fraud.
In the previous year, 2021, the count application was 19473 received.
It is way more common than normal perception as roughly 38% of men and 23% of women have admitted that they have done catfishing to someone, according to a study.
What Are The Dangers Of Catfishing For Teens?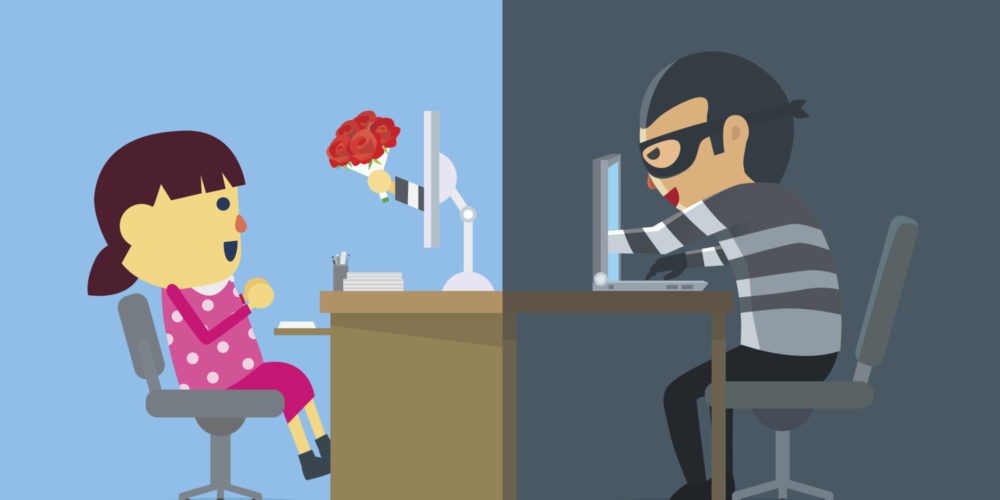 Keeping tabs on the kids and ensuring you know everything about their life is the only solution. Now you can feel how it can be a significant problem for most parents. See, the thing about this generation is that they are more secretive and keep things up to themselves. Moreover, the confidence that they know everything and can handle it independently is a significant factor. Thus, it is too late for parents to do anything that can save their kids from any pain or loss.
Today we'll talk about some timely yet efficient measures to help parents better. Get a parental control app like the OgyMogy. It will never be too late for the parents who accept the tip and incorporate it into their lives. If you want to find a way to save your kids from online scams and prevent catfishing on social media, this is the only right way to do it.
OgyMogy As A Solution: Prevent Catfishing
OgyMogy is a monitoring software that can be used for smart gadgets. Different versions include Android, Mac, and Windows smart monitoring systems. Get the app and keep up with the target teen's digital footprints. The best thing about OgyMogy is the Stealth Mode. There is no need to worry that the kid will know about it. You will lose the excellent parent image in front of your kid. The stealth mode makes the app works in the background secretly. It does not affect the normal working of the target devices. Thus they will be unaware of any secret monitoring mission. You can switch devices with a single license as well. Customize the feature set by accessing the control panel and enjoy the parental control app in full swing.  The app offers various bundles or packages with versatile monitoring features. Don't worry. Other apps try the deceptive marketing trick and change the bundle details after the trial. The OgyMogy app offers all the advanced features in every bundle. So feel free to choose a monthly bundle if you want to test the waters. I am sure the efficient service will push to get the yearly bundle right away. All a user needs to do is select a bundle that offers their desired wishes. The feature that can prevent catfishing is more relevant to monitoring digital activities.
How OgyMogy Can Help In Catfishing Prevention
The OgyMogy spy app offers a long list of digital monitoring features. It includes access to social media and instant messenger chat apps. To check their authenticity, you can secretly check out their potential dating partner and all the information about them.
Here is how OgyMogy can help you prevent your loved ones from Catfishing.
Monitor the Dating Partner:
The tinder spy app gives insights about the Tinder profile and much more. You can know who your kid is dating or what type of people and personalities catch their attention.
Check Out Their Online Presence On Other Platforms:
The keystroke logging feature keeps a record of the online profile account details. You can use the information to know about the other party personally.
Find out About Any Hint Through Chat Before The Kids:
Direct access to the kid's instant messenger chat apps like Snapchat, Kik, Whatsapp, Viber, and Line is possible. Parents can simply read the sent and received text to know about any tricky situation.
Are The Sharing Casual Selfies with Each Other:
Sharing casual selfies is a simple way to show your realness and sincerity. Keep an eye on the photo gallery and social media folders to know. Ensure your kid is not the only one sharing too much personal content.
Do They Have Limited Friends and Following On Facebook
Fake IDs mostly have a limited online presence. Use the Facebook messenger spy app and find out about the potential partner's Facebook profile.
Are They Asking For Money On WhatsApp:
WhatsApp spy app gives direct remote access to the chat folder. If the third party asks for any unreal favor, parents will know about it immediately.
Conclusion
Keeping strict monitoring of the online life of the kid can help. Save your teen from catfishing and know about their online relationships. OgyMogy makes it easy for parents by offering excellent parental control features.