In this post, we will cover how to clone an android phone remotely and what is phone cloning?
Why copy data of a phone, and what you need to do before cloning an Android cell phone.
Different approaches are floating on the web like you need to change your device into a spy gadget.
Before going into the details, you need to know how to do it?
Nowadays, you don't need to get access to the phone to save data. It sounds crazy, but technology these days is up to the sky.
Clone An Android Phone In A Nutshell?
The most typical method to cloning a android phone is by using an application. The applications enable users to shift the device's data from an old one to a new one.
Phone cloning applications are floating on the web that you can install on your cellphones, and you can use one out of all applications.
Moreover, your cellphones need an internet connection to transfer the data from one to another.
You can use one device to deliver the cellphone data and put the second one to receive all the data to clone a phone completely.
You can check your phone and make sure all the data has moved. You can prevent data from corrupt by using backups, and you can use your new device.
Note: The focusing point is that you need to use an application and then use backups for a cellphone device. Therefore, why don't you go for a legitimate application that provides you backup and clones a cellphone simultaneously? Before we discuss cloning a phone using an app for the cellphone, you need to know about the following:
What Is Cell Phone Cloning?
Phone cloning means copying the data of a device and then moves it on the other phone.
You can create a backup of a phone, which also would term as cloning. However, delivering the data of any device is also the act of cloning a mobile device.
In the past, hackers used to tune into your phone and listen to the conversations.
Modern technology is a little complex, and it seems hectic for you to get the data of the target device into your device.
Modern phones run on SIM cards that have secret codes. Therefore, it is tough for you to copy mobile data without plugging it into it.
Why Would Anyone Want To Clone Android Phone?
Copying someone's mobile data seems intrusive and illicit activity all over the globe. But still, you can do it for legal issues.
People can clone a phone to set parental control on kids' mobile and keep an eye on employees' business devices.
Moreover, individuals monitor a mobile for moving data from one device to another and many more.
Most people think of cloning to make the phone not get tracked. However, you can easily track a mobile no matter what!
You can send cellphone data, like videos, photos, contacts, emails, and many more. A law does not apply unless you are breaching someone's privacy without consent.
You can listen to anyone's phone calls, monitor contacts, read the message, and email having permission or device belonging to you.
How To Clone a Cell Phone Text Messages?
Cloning text messages on a cell phone is a technical mechanism, and people are more likely to be unable to do it on the target phone. However, you can clone text messages remotely on another phone using spy software.
It is not a cell phone cloning app, but you can use it to clone someone's text messages on the target phone, cellular network text messages, and chats. Moreover, you can clone social networking instant messages, like WhatsApp, Snapchat, Facebook, line, Viber, and many more.
Android Spy app has the power to clone messages, track location, record live phone calls, and monitor every activity on the target mobile device.
None of the cloning software would have such features that enable you to monitor, track, and record every activity on the phone, including text messages.
The spy software is for the non-tech savvy, unguided people and for those looking for an easy way to clone cell phone messages and chats conversations from one phone to another. Here are the steps to clone messages and other activities on cell phones:
Step1: Subscribe to the spy application
Get a Phone spy app subscription and receive credentials via email.
Step2: Get one-time physical access on the phone
One-time physical access is necessary on the target phone to configure the application successfully and activate it.
Step3: Use dashboard features to clone text messages
Get access to the online dashboard of spy software and use its features, like spying on text messages, screenshots, and recording to watch, capture, and get text message logs to the dashboard. Users can download the text message logs from the old phone to the new device. It is how you can clone cell phone text messages.
What Is The Legitimate Way To Clone A Cell Phone?
Yes, you can have a legitimate way to clone any mobile device. But before you go through the process, you need to have the following things at your disposal.
Backup of your device
Backup of all the concerned data of the target phone
Your current cellphone
You need to backup all of your concerned data on the target mobile. Parents need to backup for family photos, videos, and many more from the teen's phones.
On the other hand, business professionals need to back up everything stored on the phone provided to employees to safeguard confidential information owned by the company.
Best Methods To Clone Android Phone Remotely
Here are the best methods we are about to discuss to clone any cell phone device.
SHAREit
CLONEit
OgyMogy App
Method No.1: Use SHAREit To Clone Your Target Phone
Millions of cell phone users are using SHAREit cross-platform phone sharing software. It does not require any wire attached to the device to share the data with another device. It can transfer your phone data with accuracy and efficiency. It does not need to use your mobile data and Bluetooth. It works directly with the Wi-Fi to clone your android phone. You can use SHAREit to transfer data from one android phone to another.
It is a play protects application that you can download from the Google Play store and use on your phone to clone it. Here are a few steps you need to perform to clone your phone data from the old device to the new phone.
Step1: Initially, you need to have the SHAREit application and install it on your old and new android phone. You can download the application from Play Store.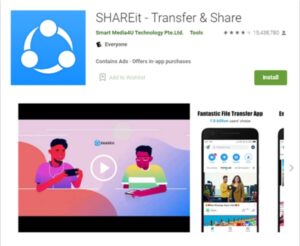 Step2: Install the SHAREit app on the target devices, and activate it on the source device. Further, you can tap on the "send" button.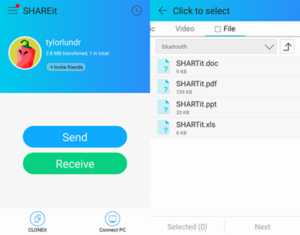 Step3: Users can choose the files they are trying to transfer from an old device into a new one. You can tap on the "Next" option once you have chosen the data you want to clone.
Step4: You have to take the devices closer to each other and mark one device as a data sender and the other one as a data receiver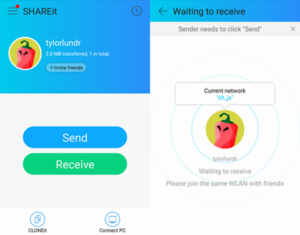 Step5: It will choose the sending phone and connect the device with the Wi-Fi to have a secure internet connection.
Step6: Once the connection has formed; select the receiving device and the cloning activity will get started.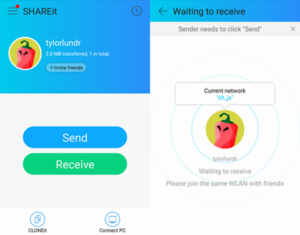 Method No. 2: Use CLONEit To Clone An Android Phone
Do you want to transfer the data of your old cell phone into the new android device? CLONEit app is the best option to transfer the data of your android phone from one device to other. The application can transfer multiple android accounts without any technical issue. You can learn how to clone android devices using CLONEit using the following steps:
Step1: You can download and activate the CLONEit app on both of your phones. You should have a stable Wi-Fi internet connection to clone your android phone.
Step2: You have to select the old device as a sender and the new one as a receiver.
Step3: Your target device will find the sender device automatically. You can view the Wi-Fi hotspot the sender device has formed and verify the connection.
Step4: You have to make sure about the connection request by clicking on the "OK" button.
Step5: Once the device has a connection with the other device, you can clone your device. You need to visit the sender device and choose the data to transfer to the target device.
Step6: Once you have made your choice, you need to tap on the "start" to clone your android device.
Step7: You need to wait for a little while to transfer the data from the sender device into the receiver device. You will get the notification once it has ended up with the process.
Use The OgyMogy Spy App To Clone Your Cellphone
You can clone a cell phone device by using mobile monitoring software. It empowers you to copy all of your data on the target cellphone, and then you can share it with the OgyMogy dashboard.
For cloning a mobile, you need to install phone tracking software on the target device. You need to have physical access to the target device to configure the installation process.
Moreover, get access to the web control panel of the phone spy software and you not only can copy phone data but track the device to the fullest. You can transfer the following data of the target device into your device.
Intercept The Text Messages
Once you have installed OgyMogy on the target device, you can change a cellphone into a spy gadget. You can intercept messages sent and received on the target device you wish to clone.
Phone Contacts
You can send the contacts stored on the target mobile by cloning them to the fullest.
Call Logs
Users can access the logs of incoming and outgoing calls to the target device using android spy software.
Social Media Conversations
You can clone cellphone social network conversations using the social media spy app. It empowers you to deliver messages, conversations, and voice and video call logs to your new device.
Multimedia
Users can sync the precious data of the mobile, like videos, photos, music files, and many more. You can do it from one phone to another using the OgyMogy secure web control panel.
Emails
You can clone emails sent or received on a mobile using the emails tracking app. It enables users to sync the email content to your dashboard. Later on, you can sync the data of the emails into your new device.
Record Calls
The Best Thing About OgyMogy To Clone A Cellphone?
The application works like a typical clone application. It is far better than the actual application because you don't need a backup for your data stored on your device.
It can provide you data backup and further empowers you to spy on phone to the fullest. Users copy any cellphone data running with Android OS in real-time.
Commonly Asked Questions To Clone A Cellphone
Can We Clone An Android Phone?
Yes, you can clone any mobile device running with Android operating systems. Don't use free apps that enable you to copy your old phone data and store it in the new one because it will put your data at risk. You can use the OgyMogy cellphone tracking app to avoid data loss issues. It is the best application to move any android device data to the fullest.
Can You Clone A Cell Phone?
Yes, you can do it, but you need to create a data backup before you opt for the process. Moreover, install OgyMogy on your target device to move all of your data into the new mobile device.
Can You Clone Someone's Phone Without Them Knowing?
You can clone someone's mobile device without them knowing using cell phone monitoring software. You can install it on your cellphone, and it works secretly on the target device and syncs all the data into your new cellphone device using its online dashboard. The cellphone tracking app is the best tool to track a device without someone's knowledge.
Can Someone Clone Your Phone Remotely?
No, you cannot clone any device unless you install an application on the target device that you wish to transfer data from one device to another. You have to have physical access to your mobile devices to get the job done.
Is It Possible To Clone A Cellphone For Free?
You can find out several applications that empower you to copy any mobile device data.  Free apps to clone any phone, you need to use OgyMogy to get the job done convincingly. Free cloning applications cost your time and energy and the possibility that you can lose your device.