You can hear the conversation from far away using a surround listening app. But finding the right app takes time and effort.
Surround listening apps are compatible with both Android and iPhone.
You have to install it, and you can hear through the walls.
You can secretly listen to your kid's or your staff's conversation. Spying apps provide you with all the features you need to listen to the surround of anyone.
One of the best apps for this purpose, OgyMogy is a reliable surround listening spy app that assists you in listening to someone's conversation. The best part about using OgyMogy to listen to conversations from a distance app is that it works in stealth mode.
It uses the phone's microphone, and you can listen to the targeted device's surroundings live. OgyMogy is a robust program that fulfills all requirements for microphone spying.
Hear Conversations from Far Away App Android
One of the most outstanding microphone spy application that listen to the phone's surroundings is called OgyMogy.
Without gaining physical access, it can use any other Android phone's microphone to record and listen to its surroundings.
You only have to install it on the targeted cell phone, enabling you to listen through the microphone.
The distance of hearing depends on the surround listening apps.
It depends on what type of app you are using and what features they are providing.
However, the OgyMogy doesn't force you to stay a certain distance to hear the targeted person's surroundings; you may listen to the conversation from anywhere.
You can spy using a microphone from anywhere. You have to set up the spy app in the desired person's Android cell phone, which can operate from anywhere.
You can listen to your child's surroundings, whom they talk with, and what type of conversation he is doing with their friends or other people.
For this purpose, OgyMogy will always help you monitor your kids' and employees' activities.
Is It Possible To Use An Android Phone As a Listening Device?
If you have the appropriate app installed on your smartphone, you can use an Android phone as a listening device.
You have to install a monitoring app on the targeted device.
After installation, the device will be entirely in your control. You can covertly turn on the microphone and listen to the surroundings without them knowing by installing a surround listening app on the targeted phone.
With just the help of a smartphone mic, you can easily listen to the background and conversation of your kids or any other person.
Finding a spy app that is highly featured can be challenging, so we have found one of the most incredible microphone monitoring applications that listen to the phone's surroundings, which is called OgyMogy.
Without gaining physical access, it can use any other smartphone's microphone to record and listen to its surroundings.
How Ogymogy Surround Listening App Works?
Now, you must understand how to use the app on your targeted devices.
The OgyMogy spy app offers a simple installation process with a friendly user interface. Anyone with basic skills to manage an intelligent gadget can use the app and handle matters independently.
Thus a mother, a working lady, a manager, a businessman, or anyone can use the app.
All you need to do is follow simple steps.
Step 1: Visit the OgyMogy and select a package that fulfills your desire.
Step 2: Once you have chosen the app, and then receive credentials.
Step 3: Users need physical access to the target device for installation. Once the installation is done, you are good to go.
Step 4: Log in to the app's online dashboard or control panel by the given information. You will land on following screen.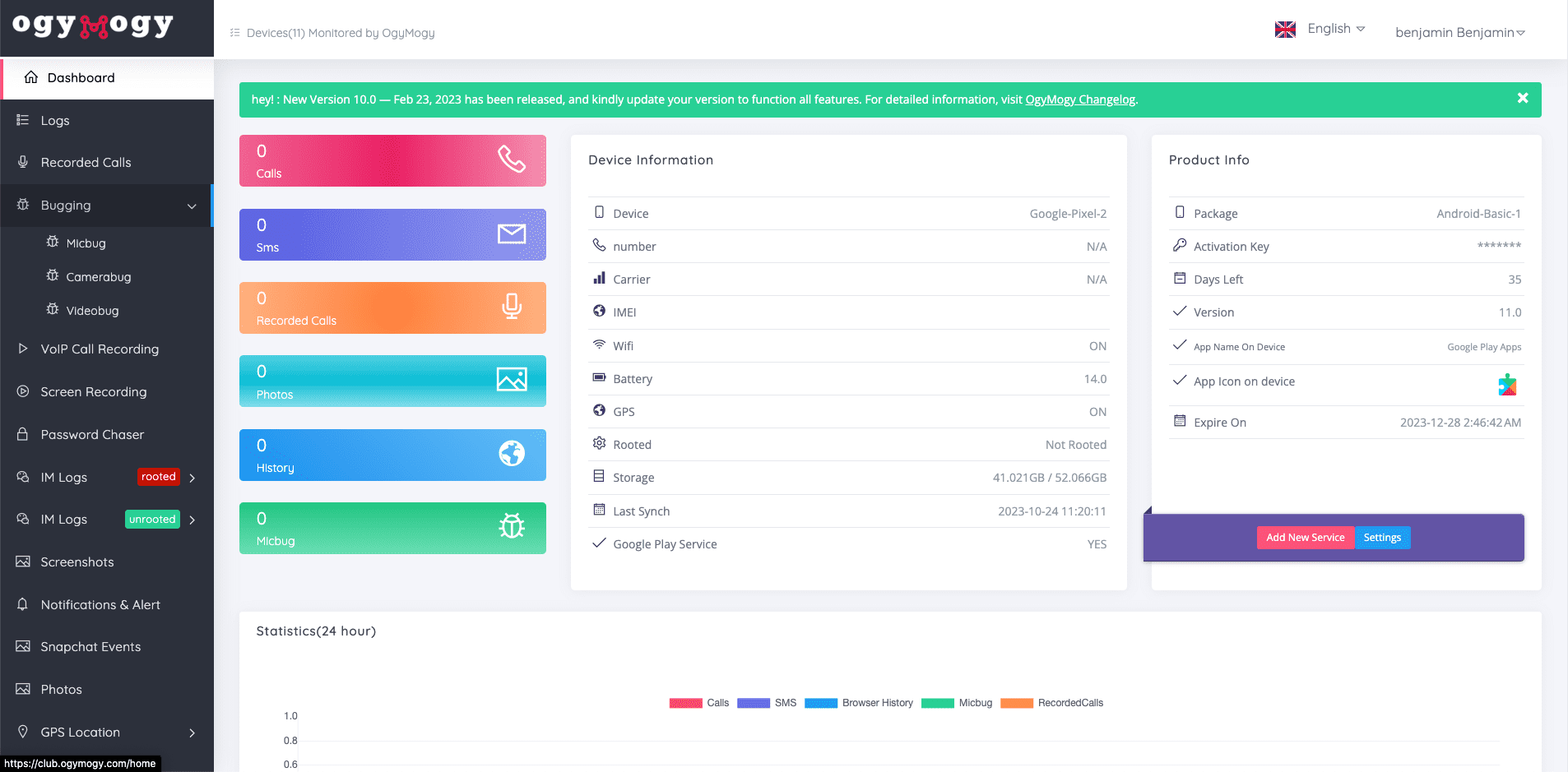 Now click on Mic Bug option in side menu.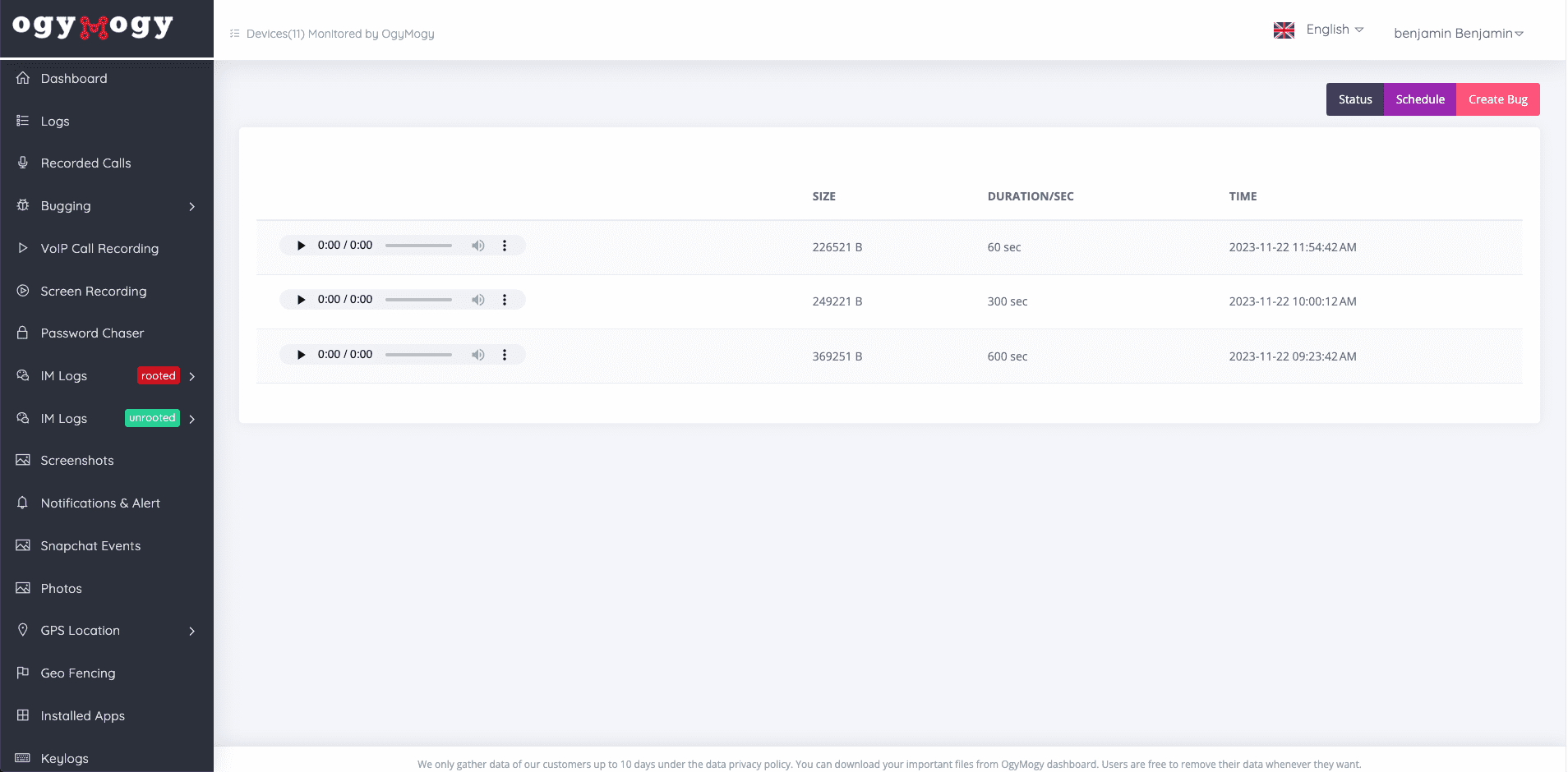 To hear the conversation from far away, You need to create a bug. Now click on Create a Bug button, A pop up will appear, choose your desire duration and hit the send button.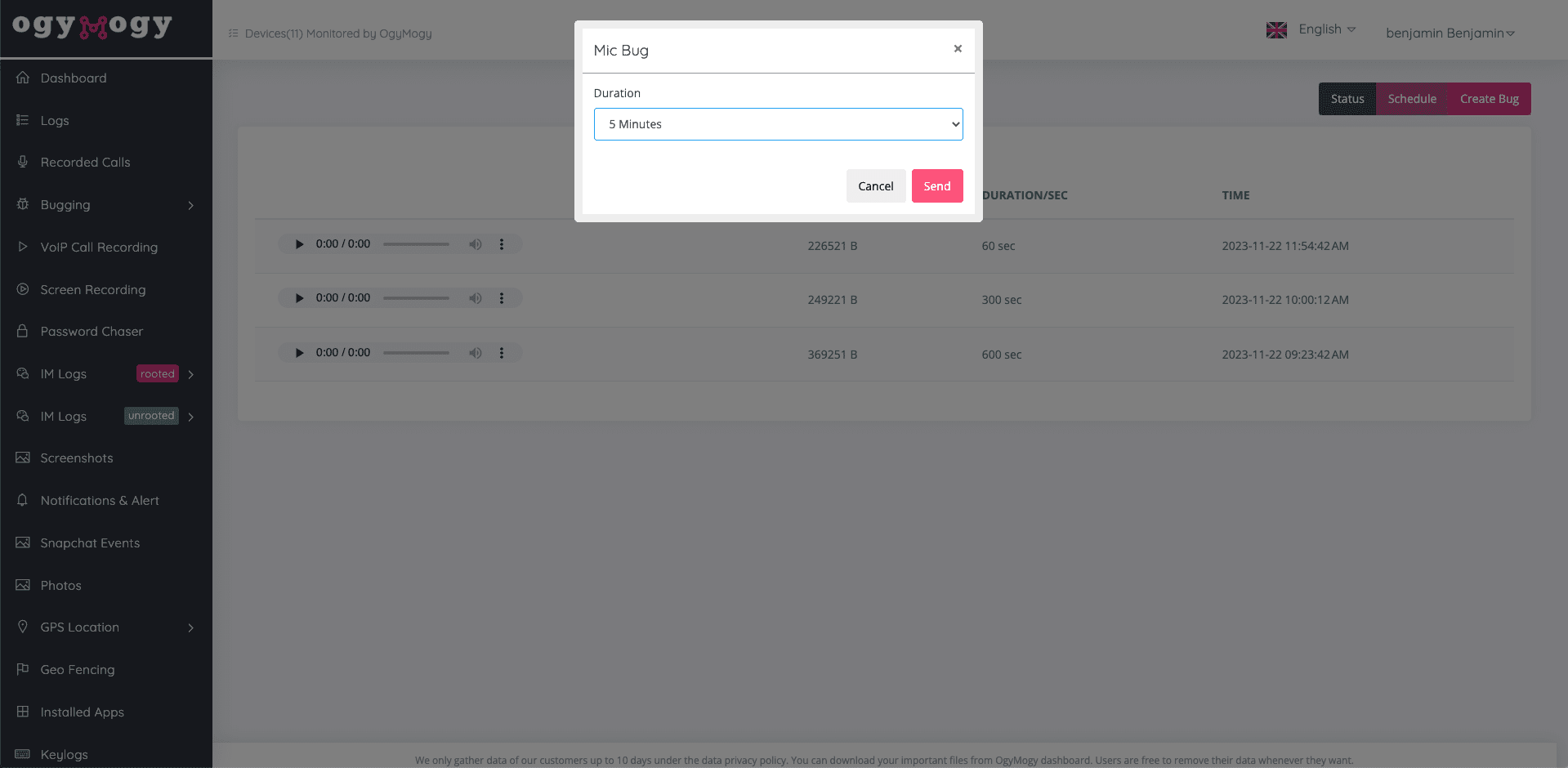 Hear Conversations from Far Away App iPhone
It doesn't seem very easy to hear the conversation from far away from iPhone, but technology makes it easy.
You can listen live to the conversation by using spy apps.
For this purpose, you have to choose any monitoring app that can operate on the iPhone and make it possible for you to listen live to the surroundings of the apple devices.
An App that Allows iPhones to Hear Conversations Remotely
Due to advanced technology, it is possible to use spy listening software for apple devices to listen to the conversation from a distance.
You have to install the microphone monitoring app on the intended device. After installation, you can listen to conversations even if you are hundreds of miles away from the targeted device; monitoring apps can continue operating in the background without the owner's knowledge.
Listening to someone's surroundings without the user's consent can be illegal so before using monitoring apps, check your local laws properly.
The surround listening app for iPhone provides you with all the features you need to listen to the background of any apple device.
You can listen to a conversation no matter where your targeted person is. It controls the iPhone microphone, and you can listen through it.
These apps work in complete stealth mode, and users cannot know that any monitoring app is working on their devices. These apps help you in protecting your kids or your business.
By hearing the conversations, you can identify dishonest employees, learn about your kid's problems, and solve them before getting more extensive. You have to install an iPhone monitoring application to start hearing the conversation.
How Are Listening Devices Beneficial For Us?
Now is how to listen to the Conversation from a distance app can be helpful for all of us.
Remember that using the app for parental control or employee monitoring is entirely legal. You can use the app without worrying about legal complications with written consent.
Beneficial For Parents
Parents can listen to the teenagers' conversations from a distance app and track any bully in the company.
Listen to kids in school, on a trip, or hanging out with friends.
The OgyMogy reports every Conversation and discussion in detail. You can not only check the kid's known company but can also trace any stranger's presence.
Find out if the teen is being stalked or blackmailed by any stranger. Take immediate action to protect them from any harm.
Beneficial For Employers
The workplace has all sorts of people working together. Keep track of troublemakers and those who love to gossip.
Use the OgyMogy and listen to people talk under the table. Track those kinds and warn them to avoid any misunderstandings at the workplace.
The ability to listen to conversations from a far away app makes it possible for employers to catch any spy. Listen to all the conversations, calls, and business deals and know immediately about suspicious activity.
The app will notify the user if any employee shares secret information or credentials with outsiders or irrelevant persons. Take action before it's too late by using the OgyMogy app.
A data breach can be timely stopped by smartly using the feature. Get your favorite bundle today and enjoy the spying power with the OgyMogy.
Conclusion
Many wide ranges of spy apps are available on the internet, and you can choose any app according to your need and budget. And start hearing the conversation of your kids and staff. For this purpose, OgyMogy can help secure your kids and detect dishonest workers ruining your company's reputation. It has every feature that you need to spy on anyone.