Do you want to track cell phone call logs and record and listen to the calls? There has been one solution for monitoring someone's phone calls in secret. People had to use an external digital recorder with a handset to monitor someone's phone calls. It was a reliable method of how to track phone calls without knowing them.
Gone are the days when you must have an external digital recorder. You can monitor phone calls to record and listen to someone's conversations. Technologies have become advanced, and now you can use various methods and third-party apps to get the job done.
Is It Possible To Track Someone's Phone Calls To Record & Listen To Them?
Contemporary cell phone devices and the technological revolution have secretly allowed tracking of someone's phone calls. You can track another phone to record and listen to the live incoming and outgoing calls without them knowing.
You may use Google Voice to record cell phone voice conversation. However, you cannot use it to spy on calls and listen to the discussions on the target phone.
So, you have to move forward to third-party apps because cloud-based services can easily listen to conversations by tracking someone's cell phone in secret. Different people have unique reasons for following phone calls in secret. Let's know why anyone would think of tapping someone's mobile phone calls to record and listen to voice chats.
Why Would Anyone Look Forward To Track & Listen To Someone's Calls?
No matter what intentions you have to track cell phone calls. You have to follow federal laws for listening and recording conversations. Here are the top reasons that force people to listen to incoming and outgoing phone calls.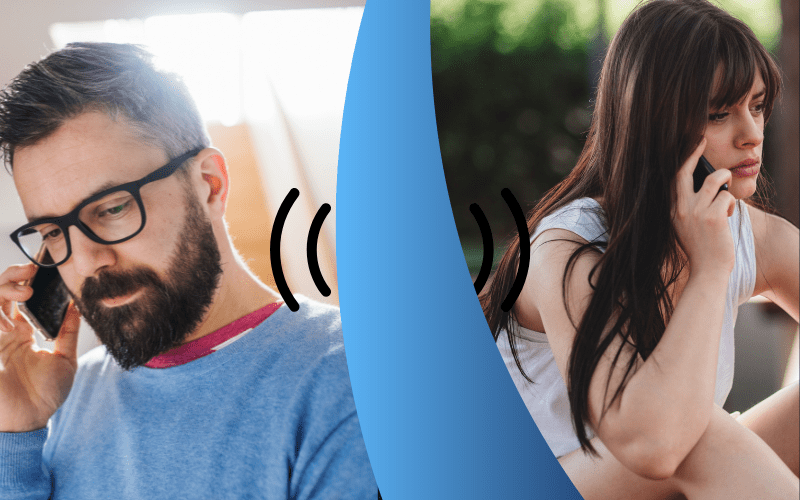 To Keep Tabs On Underage Teens
Suppose your child is not giving a dame to the family and seems busy on their cell phone calls. Then you can use a hidden app to record phone calls in secret. You must find an app that empowers you to record live calls on kids' cell phones.
The hidden app will find out what your kids are doing on their phones. Please get to know whom they are doing voice conversations on mobile networks and social apps.
You can protect your kids from stranger danger, child grooming, and cyberbullying. You can listen to their calls by monitoring mobile devices. Parents can take necessary steps to safeguard teens after listening to the recordings.
To Track Loved Ones' Phone Call Conversations
You may wonder if one of your loved ones is behaving strangely. They can take things aggressively whenever you ask questions. Drug abuse, hookups, and one-night stands are frequent in teens' lives. It would help if you took care of their cell phone conversations using a call tracker.
You will learn about the history of incoming and outgoing calls with the schedule. Further, you can see the caller's number and location. Young teens are not easy to tackle. You have to collect a piece of evidence with an app. Then view cell phone call history with the schedule.
You can see your beloved teen spend hours and hours on the cell phone screen and talk to someone all day long. Find a piece of evidence, and ask your teens what is wrong with her.
To Track Employees & Listening To Their Voice Chats & Surroundings
Suppose you are running a business. Do you have a large team of customer care representatives? Then you should check their performance and listen to their Voice conversations. Further, you can remote control business devices to listen to microphone surroundings.
Employers cannot determine employees' performance. You can monitor their phone calls in secret. Employers can also listen to their surroundings by controlling their cell phone's MIC. So they can listen to what they say behind their back during working hours.
Do you want to know about employees' problems which they don't share with you? You can take notes of their mobile phone conversations on cell phone calls. Call tapping would tell you the whole story about employees' problems.
What Things To Consider For Tracking Phone Calls On Another Phone?
Here are the following things to consider track and controlling cell phone calls:
Find a hidden app that empowers you to control & listen to incoming & outgoing calls.
Use a call history tracking solution to check someone's call history on the target device.
Use OgyMogy app to record and listen to the phone's surround voice, calls, and conversations.
Find an app hidden on the target device while listening and tracking calls on another phone.
Use a feature-rich application pack with call history, call recording, and surround recorder.
Find out non-rooted monitoring software for cell phones to record calls in secret.
Undetectable monitoring app for listening to the calls without them knowing.
What Is The Best Way To Track Calls In Real time & Listen To Recorded Data?
OgyMogy is one of the best parental and business monitoring software. It empowers you to monitor incoming, and outgoing calls on someone's mobile phone remotely. You need to perform few steps to get the job done:
Visit OgyMogy app on the web, and sign up.
Choose a best subscription plan, and make an online payment.
Visit the OgyMogy sent email, and collect the credentials, and welcome email.
Follow the configuration process and install OgyMogy on another phone.
Login to OgyMogy's online dashboard and get access your target device.
Use the features that suitable to your cell phone monitoring purpose.
Use OgyMogy Features For Tracking Cell Phone Calls In Secret
Here are the following features to use for monitoring cell phone calls and listening to the target device's surroundings:
Call history tracker
Call history tracking is one of the best features of an OgyMogy app. You can use it to access other cell phone calls. You can monitor the call history of incoming and outgoing calls on the target phone. You can download the call logs and view to whom the target person has made phone calls with the schedule. You can also track the location of a caller with accuracy using the number. Further, check the callers' location history and get to know who has made calls on your target phone.
Record phone calls:
In real-time, you can use OgyMogy app on another cell phone to listen to live inbound and outbound calls. It is a tool that can access the target phone, record real-time calls, and save the data to the dashboard. Users can download the Voice conversations on another phone and listen to the calls in real time.
Surround recorder
Users can remote control the target phone's microphone and record cell phone surroundings. You can listen to the surround chats, voices, and sounds and save the data to the dashboard.
Can I Monitor Other Activities with OgyMogy Tracker Software
Do you know OgyMogy is one of the few phone monitoring services that have multiple features. It empowers you to get effective phone tracker possibilities. You can use following features to monitor cellphone other than phone call tapping.
With OgyMogy, you can……….!!!!!!!
View calls logs and restrict calls
Read text messages & View Deleted chat
Block text messaging
Use Geo-Fence to set prohibited, and allowed areas
Monitor social media messenger spy apps
Spy on multimedia files
Capture screenshots and Screen recording
Keystrokes
Conclusion:
Do you know monitoring remote cell phone calls on someone's phone is not legal? You can do it in a legal way. Do you own the target device? Use tracking software for your child's safety and business productivity.
You can use OgyMogy to remote control another phone to monitor cell phone calls, chats, surroundings, and many more. You can listen to the confidential conversations of employees to catch dishonest employees. Further, you can record and listen to the calls to safeguard your teens from stranger danger.