The spying industry is growing day by day, and nowadays, many so-called monitoring applications claiming as the top guns of the cell phone spying industry. Today, we compare two of the most popular and effective spy solutions analyzing their products, features, installation, OS compatibility, usage, and pros and cons. Let's do a complete and comprehensive review of Flexispy and OgyMogy.
OgyMogy –Best Parental control & Employee Monitoring software
OgyMogy is one of the best spy apps for cell phones, tablets, computers, and PCs. It ranks no.1 among the top phone & PC spy guns in 2022. The application has made its way to the next level.  It has become the priority of parents and employers, and many individuals for ethical spying activities. It consists of several monitoring products that have made it multi-purpose tracking software. OgyMogy Every product has unique, effective, efficient, and result-oriented features that you can operate via its user-friendly online dashboard. Further discuss its product features, OS, support, pros, and cons.
OgyMogy spy Products:
OgyMogy has monitoring products for cell phones and tablet devices that can spy on any cell phone and tablet device. Spy software can monitor and control computers, PC laptops, Mac and desktop devices. Here are the following OgyMogy products that you need to know about:
Android spy app
OgyMogy spy app for android is the most advanced and efficient spy solution for smartphones. It empowers users to set parental control on android phones and tablet devices. Users can secretly monitor phones with spy app typical and exclusive features and send results to the web control panel.
Best things that make OgyMogy android spy an ultimate solution:
Spy application works on both rooted & non-rooted phones & tablets
It is sneaky because you can hide it on the target cell phone device
No anti-spy solution can detect it on the target android phone & tablet
It can easily hide its app icon on the target phone up to the latest OS version
OgyMogy spy app for android has powerful and exclusive features
PC monitoring (Mac & Windows)
OgyMogy computer spy software is for computing laptop and desktop devices running with MAC operating system. You can monitor mac computers and laptops using features to get instant results via the dashboard. MAC monitoring app is the best tool for spying and monitoring mac computer devices with its sneaky set of features.
Few things you should know about OgyMogy computer monitoring software:
Limited features but enough for spying and tracking mac computers
Easily perform sneaky operations on the target computer
Track, record, and monitor activities on laptops & desktops
Best for employee monitoring & parental controls
Compatible with all MAC OS versions
Windows spy software
OgyMogy spy app for windows has no match because it has plenty of features, is easy to process, and gets timely results via the dashboard. Windows monitoring software has its significance among the business community. It is also suitable for spying on kids' PCs.
Best about OgyMogy windows tracking application:
Hidden spy solution for laptop and desktop devices
Compatible with all Windows OS versions
Pack with typical & exclusive spying tools
Best for spying on employees & for kid's digital well-being
Dozens of monitoring and tracking features for Windows PCs
OgyMogy Monitoring Features For Phones, PCs
OgyMogy has several products, and each product has many features to monitor android phones, mac computers and track windows PCs. Here are features that are effective and powerful to spy on android, mac, and computer OS devices:
Android monitoring app top Features:
Social media messengers spy
Screen recorder
Web History
Location history
Geo-Fence
Route Monitoring
Call history tracker
Remote camera capture
OgyMogy android spy has the most powerful features to monitor cell phones, tablets to record live screens, monitor social media, track internet browsing activity, and live location tracking ability. Users can also track call history and remote control features to control android cameras and microphones.
MAC spying app Features

Keylogger
Live screen recording
Geo-location tracking
Web blocking
Track browsing history
Real-time activities
OgyMogy computer monitoring software can perform sneaky operations for parental control and business safety. It can capture applied keystrokes, record live computer screens, and control laptop microphones remotely. Moreover, you can filter websites, monitor web browsers, real-time spying, and many more.
Windows spy software powerful features
Find GPS location
Website filtering
Screen recording
Record Keystrokes
MIC bug
Activity logs
OgyMogy Windows spy solution can control target windows devices and monitor every activity with the schedule. It can find out target device location and filer time-wasting and block inappropriate websites. Users can record live PC screens in real-time and capture keystrokes. Window spy can monitor activity logs on windows laptops and desktop devices.
How OgyMogy works?
OgyMogy configuration is almost similar for every product, and you can get its license of android spy, computer spy, and windows monitoring software. Further, you can access the target device to install and activate the surveillance software. Moreover, activate the dashboard to use features of your desired product, and get results via the dashboard.
Pricing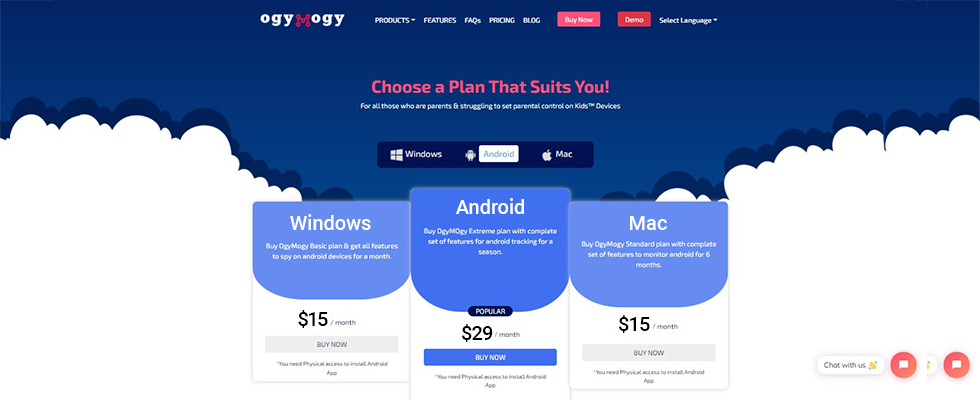 Platform supported:
OgyMogy is the world's best cell phone and Pc monitoring software. It is compatible with three operating systems like android, MAC, and windows. Android phone tracking app is compatible with OS 4.4.0 to 11.0. Moreover, it supports all OS of windows and MAC devices.
Purpose of use:
Here are following usages of OgyMogy spy software for cell phones, and computers.
Employee Monitoring
Data back up
Prevent cyber attacks
Live monitoring
Secretly spying application
Find Cheapest & Reliable Spy App With All Features
OgyMogy Spy App Pros & Cons
Here are following pros and cons about Best spy software for phones, and PCs –OgyMOgy.
Pros:
World's only legitimate spy application
Easy to install application
User –friendly application
Hidden spying app for phones, and PCs
Result oriented & live monitoring tools
Exclusive surveillance features for phones, PCs, and computers
Separate online dashboard for each product
Monitor your target phone without target device
Easily adjustable for visible and invisible tracking
Compatible with every OS of android, MAC and windows
Cons:
Lacking with iPhone spy software
Physical access it necessary on target device for installation
Remote monitoring is not possible unless you install it
Don't encourage spying other than kids & employees
Flexispy Review –Best Phone & Computer spy software
Flexispy is one of the best phone tracking apps that you can use to spy on cell phones. It is one of the pioneers of spy solutions for cell phones and is the most suitable monitoring software to monitor kids' and employees' phones and PCs. It has hundreds of tracking and monitoring features that have made it an indispensable spy solution. It ranks among the top guns in the phone and computer spy industry.
Flexispy monitoring app products:
The application has many tracking and spying products that no other solution has come up with yet. You can track phones, monitor PCs, and spy on business laptops and desktop PCs to the fullest. Users can use its powerful tools remotely via its online accounts and get real-time and instant results. Here are the following Flexispy products that you need to know:
Phone spy app for android
Monitoring solution for iPhone/ iPad
PC & Monitoring software
Flexispy app features for android, iPhone, MAC & PC
Flexispy has hundreds of spy solutions for cell phones, mac, and PC devices. Here are the following features you can use to spy on any phone and computer device to the fullest. However, you need to target the subscription against every OS you want to monitor for parenting and employee monitoring.
Flexispy features for android & iPhones
Listen to live phone calls
Track device location
Spy on contacts
Track application activity
Discover suspicious activity
Remote camera capture
View multimedia
iPhone keylogger
Flexispy is the only application that provides the same features for an android spy and iPhone spying activity. It is an exceptional thing that you can observe in Flexispy. Do you know why? There is a difference between android and IOS but, Flexispy can record live phone calls on android, and iOS, listen to surroundings, spy on the internet, and remotely capture the camera of both android and iPhones.
Flexispy Features to spy on mac & PC
Monitor IM's
Verify Network activity
Spy on internet activity
Safeguard your data
Temper controls
Easy to view data
Keylogger
Reads Emails
Flexispy provides similar features for mac and windows devices. Users can spy on social media chats and monitor browser activity. Moreover, the application can monitor PC and Mac keystrokes and protect the data on the devices to the fullest. You can spy on sent and received emails and view data through a web dashboard.
Pricing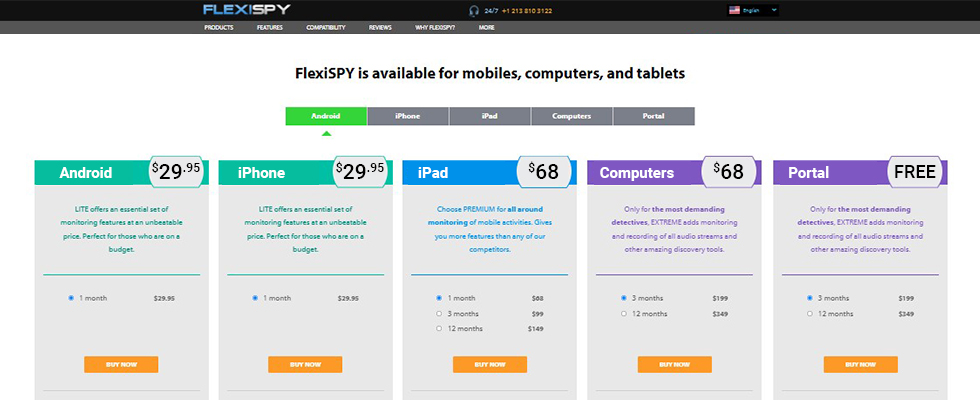 Flexispy spy app OS compatibility:
Flexispy can work on every phone and mac and PC device. It supports Android OS versions 4 to 11. Moreover, Flexispy iPhone spy is compatible with iOS 6 to 13. It is compatible with all Mac and PC operating systems.
Flexispy Pros & Cons
Pros
It is support almost every OS of android, iPhone, and computer devices
Flexispy works in a stealth mode on your target phone and computer
It is pack with exclusive and typical features
It is undetectable spy software
Cons
You have to jailbreak iPhone to use Flexispy iPhone spy app
The groundbreaking features placed in extreme packages
It is one of the most expensive spy applications
Conclusion:
OgyMogy and Flexispy are the same scale applications. In some arias, Flexispy is better like products, but OgyMogy has many features with a cheap pricing plan. OgyMogy lacks with iPhone spy product otherwise, it is the best application to monitor cell phones and computer devices.